Pacific Explorer | Hawaii – Palmyra – Kiritimati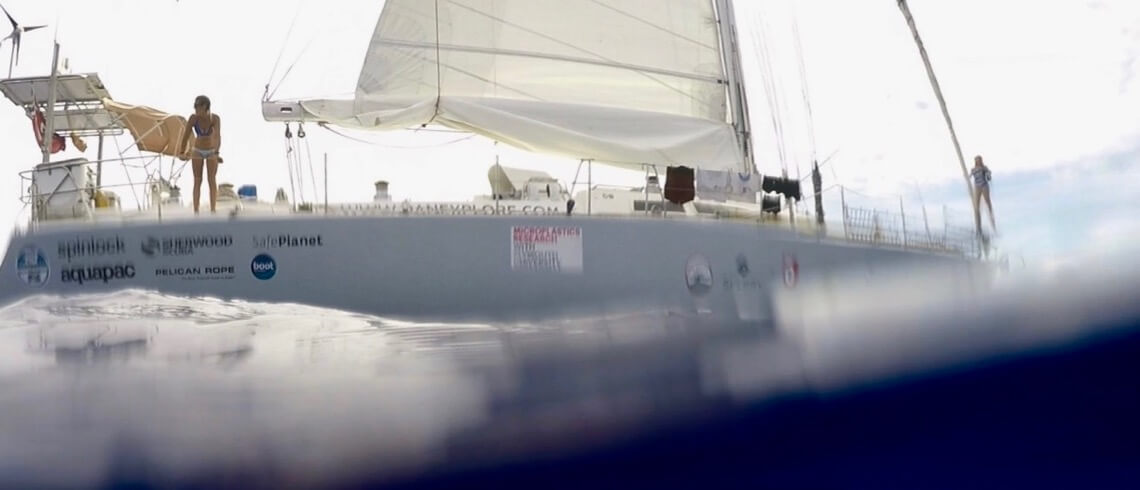 June 19 – July 1 | $2400 | 5 Berths Remaining
This trip is a blast – we'll leave from Oahu for a few days of power reaching in the trades before negotiating the ITCZ, also known as the Doldrums! Squalls and unsettled weather abound, but the rewards for careful boat handling are beautiful sunsets, rainbows, and the satisfaction of sailing fast in tough conditions. We're planning to then stop at Palmyra Atoll National Wildlife Refuge, (within the Pacific Remote Islands Marine National Monument). This stop is dependent upon the issuance of a permit, which we're working with the US Fish & Wildlife Service to obtain. We've sailed with a few scientists who have worked on Palmyra, and they have all told us that it is incredible. If we can't go to Palmyra, we'll instead stop at Tabuaeran (Fanning), a gorgeous atoll in the nation of Kiribati. We'll end the trip with a quick overnight sail upwind to Kiritimati (Christmas) Island, with the largest land mass of any atoll in the world. If we're lucky we'll be greeted by the huge Manta Rays that cruise the anchorage off the copra pier. These islands are truly remote, and the best way to get to them is by sea. Come with us and explore some of the Central Pacific's gems.
This trip is an RYA Yachtmaster Ocean and IYT MOY Unlimited qualifying voyage – contact us to discuss!
Cost: $2400 – Early Bird Price!
Date: June 19 – July 1, 2019
Start: Ko'Olina Marina, Hawaii
End: At Anchor, Kiritimati Atoll, Kiribati
Length: 13 days, 12 nights
Focus: Offshore Passagemaking | Swimming & Snorkelling | Tropical Island Exploration
Sign up Now! When you book, the $500 deposit is non-refundable. Please read our crew contract before booking.
Tentative Itinerary:
Day 1: Arrival On Board Sea Dragon
You'll join us at Ko'Olina Marina in Oahu between 1500 and 1700 to move on board. You'll have the opportunity to find your bunk and get settled in. We'll all gather together for our first dinner on board and afterwards your professional crew will take you through general life on board and safety procedures. You'll be fitted for your lifejacket and if you didn't bring any with you, foul weather gear. You'll have the rest of the evening free to do what you please, whether reading a book or taking a walk along the shore to give your legs a nice stretch before going to sea.
Day 2: Departure from Green to Big Blue
After breakfast, we'll drop lines and head out to sea. As we set our sails and point south, the backdrop of green mountainsides will slowly fade and give way to a 360-degree endless horizon. We'll settle into our watch schedule and routine for our 1000NM sail.
Day 3 – 6: Underway Offshore
We'll have some nice fast sailing on our way to the central pacific atoll of Palmyra. Fingers crossed we'll be visited by dolphins, whales and endless sea birds. The warm tropical sailing will be quite the treat!
Day 7: Atoll Arrival
Welcome to Palmyra! We'll make our way through the reef and anchor in the lagoon on this gorgeous atoll. Keep an eye out for all types of life from manta rays to sharks to dolphins! We'll meet the refuge staff and get an orientation to this very special location. There's nothing like dinner on deck at anchor in a remote location such as this.
Day 8: Another World Exploration
We'll take full advantage of our surroundings over the two days on location! Exploration is the name of the game. We'll work closely with the scientists and staff on Palmyra and hopefully we can explore ashore as well as getting a chance to snorkel on some of the most spectacular reefs around.
Day 9: Back to Sea
After a special visit to a place you can only get to by sea, we'll pick anchor and head out of the lagoon when the light is favorable. We'll set sail once again and point our bow to Kiritimati as we settle in for an upwind sail to our final destination.
Day 10-11: Underway to Kiritimati
We'll sail upwind across the beautiful blue waters of the central Pacific. You'll get to put the skills you learned on the trip south to the test as we work our way to Kiritimati.
Day 12: Arrival in Kiritimati
Today we arrive at our second atoll! We'll anchor outside of the lagoon by the cargo pier and get cleared through customs and immigration once more. We'll enjoy a relaxing day, swimming off the stern or going ashore to explore, before having a peaceful dinner on board for our last group dinner.
Day 13: Departure Day
After breakfast, it will be time to disembark Sea Dragon and take the final dinghy trip ashore at 1200.
More Information:
Contribution Includes:
– 12 nights accommodation on Sea Dragon
– All meals, snacks, and drinks on board
– Sailing Instruction
– Safety equipment and foul weather gear
Contribution does not include:
– Transportation to and from Ensenada and Hawaii
– Transportation to and from the boat
– Additional nights spent ashore
– Personal expenses while in port
Kit: Tropical
Travel Details:
You will join the boat in Ko'Olina between 1500-1700 on the first day. You will depart the boat in Kiritimati at 1200 on the last day. Kiritimati is on the same time zone as Hawaii, but 1 day ahead, so you will be departing the vessel on June 1 Hawaii time, but June 2 local time.
Honolulu International Airport (HNL) is about a 30 minute drive from Ko'Olina. Fiji Airways has one flight a week to and from Kiritimati (CXI) – it departs Kiritimati the morning of June 3 (local), June 2 (Hawaii). There are numerous guest houses on Kiritimati that can also arrange transportation to the airport for you – please contact us if you would like any recommendations.
All crew members will require a passport and visas from their home country that will allow them to travel to/ from Kiribati and the USA. Please ensure that you have any necessary visas for Kiribati before joining the vessel in Hawaii. Please ensure you have the appropriate paperwork completed before joining the vessel, or you will not be allowed to board. Please look into the specific type of visa you need for arriving at these destinations by sea: www.travel.state.gov/visa.
Team: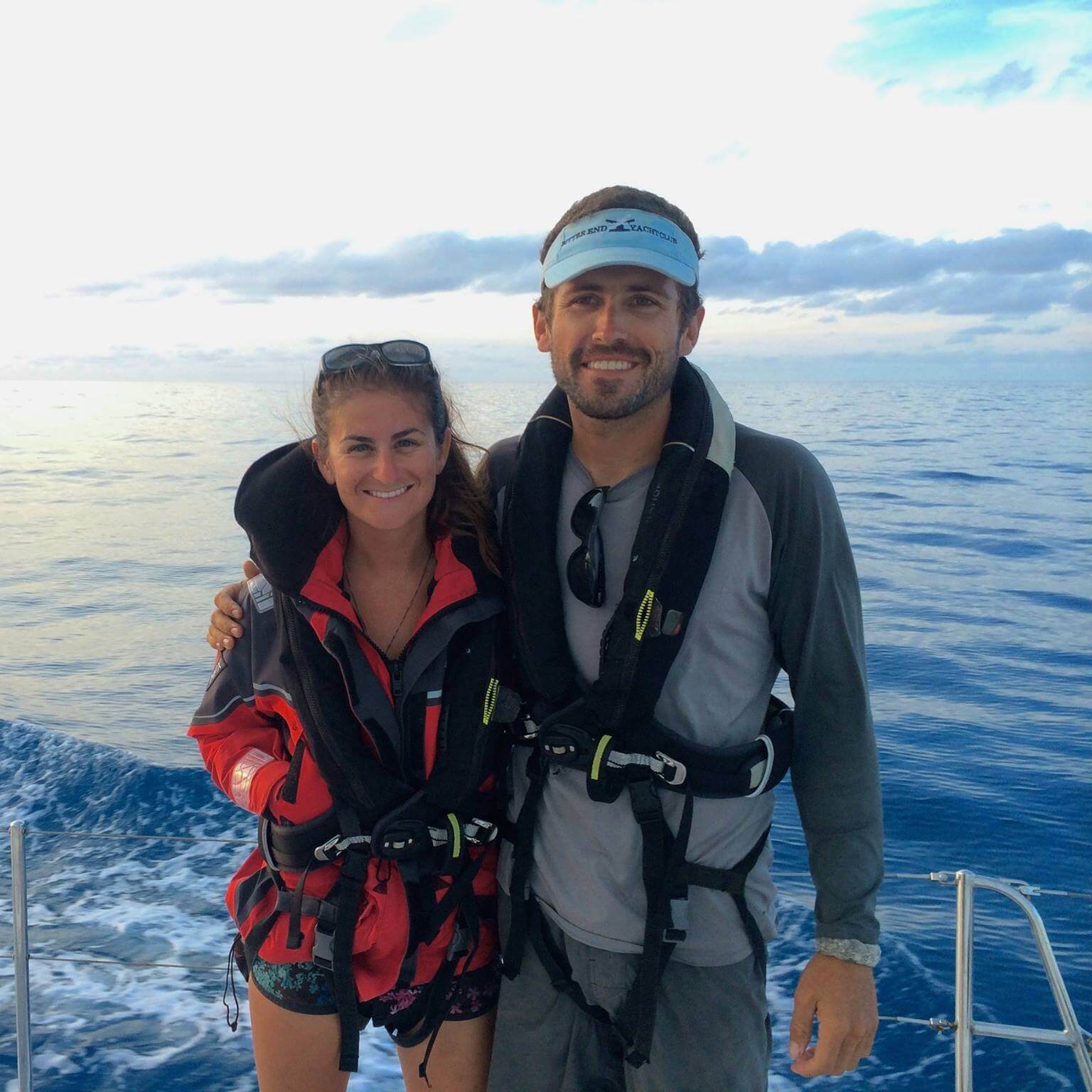 ERIC LOSS & SHANLEY MCENTEE – SKIPPER & FIRST MATE
Eric Loss and Shanley McEntee have been with Pangaea Exploration since 2012. They have extensive experience working with scientific and non-profit research groups and enjoy running educational adventures for school groups. Eric and Shanley have taken Sea Dragon through the Panama Canal, up the St. Lawrence Seaway to Chicago, and to the Baltic, the Caribbean, and West Africa.
Shanley, born in 1987, grew up surfing and swimming in the Pacific in Del Mar, California. Throughout her youth, she worked with the Surfrider Foundation to protect California's coastlines. She has a BA in Environmental Policy and Marine Science from Western Washington University. Her love and curiosity for the sea also extends underwater, where she is a PADI Rescue Diver.
After college she learned to sail, combining her passion for science, the environment, and the sea by spending several months aboard Sea|Mester's schooners Ocean Star and Argo. Soon after she earned her Ocean Yachtmaster license. Shanley is the medical officer onboard Sea Dragon while on expedition and, alongside Eric, runs and maintains her both on and off program.
Eric, born in 1985, grew up in Laguna Beach, California. During his youth, he sailed dinghies, raced CFJ's, Larks, and C420's, and taught sailing to children in Dana Point, California. As a member of the Sea Scouts, Eric gained experience sailing and repairing cruising sailboats, 80' to 130' schooners, ketches, and brigs, locally and on several ocean crossings. He also earned the Sea Scout Quartermaster Award.
After graduating from Bowdoin College, Eric became a PADI Divemaster while working for ActionQuest and Sea|Mester, developing his teaching skills as he progressed from running summer programs on 50' yachts to skippering an 88' and 113' throughout the Eastern Caribbean and across the Atlantic. In 2011, Eric took a break from professional sailing to buy and refit Odyssey, an Islander 36, to attempt a non-stop solo circumnavigation. Eight months later, he returned to Los Angeles, having sailed past the Great Capes of the Southern Oceans and back up the Pacific to his home port.
When not aboard Sea Dragon, Eric and Shanley have sailed throughout the Caribbean, across the Atlantic, and to the Arctic Circle aboard their own Pouvreau 42 Cutter, Fleur Australe.
---